Reviews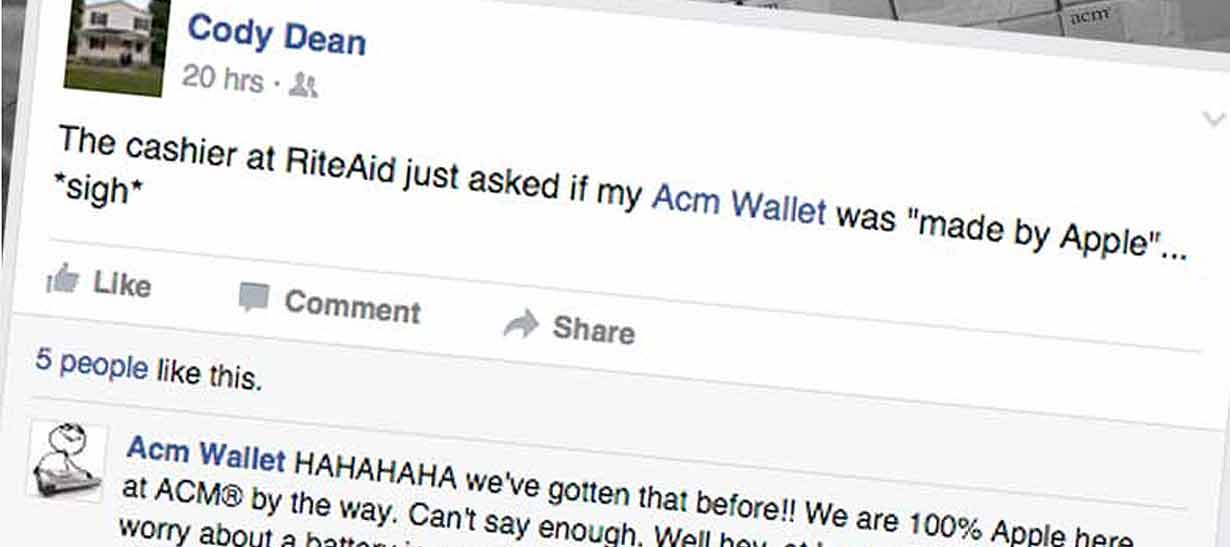 Reviewer: Jerry H, from Arizona
I have never be disappointed with the ACM wallet. Each is superbly manufactured and protects my credit card information with RFD qualities.
- Jan 29th, 2018
---

Reviewer: Sarah from Jackson, MS
If I was to collect money from everyone that tells my husband "how cool and awesome the wallet is", I'll be a millionare.
---

Reviewer: Mark from Fort Wayne, IN
As many of the reviewers have said, it's true - everywhere I go people want to know what it is in my hands and where can they get one. It's the biggest people magnet product I've ever seen - it attracts so much attention & keeps doing so even after 3 years of owning the silver 6-card wallet!!
---

Reviewer:Eric S from Las Vegas
Received your wallet for my birthday. Every cashier is totally fascinated by it. Great invention.
---
---


Reviewer: Betty from Oakhurst, CA
This is the handiest gadget I have ever owned! My most frequently used cards and license are at my fingertips, and I haven't misplaced a single card since I bought this and used it!
---

Reviewer: Carol from Penn.
I should have bought a dozen of these. I could have sold them. Everyone that sees it wants one, so I tell them about ACMWallet.com
---

Reviewer: Laura from Portland, OR
Wow. I was sold as soon as I saw it. Everywhere I go people ask me about it. It's the best thing I have ever bought online. As corny as this all sounds it's true. My mom wants one and my friends want me to get them one. Buy it.
---

Reviewer: Karem from Galloway, N.J.
I could never find my ATM card when needed. Now ALL my cards are organized. Great gadget!!! Was worth buying!!
---

Reviewer: Julie from Minnesota
I love this little wallet, it fits my cards and it's so handy to keep in my handbag. I bought a couple more for some friends for Christmas. Thanks ACM Guys!
---

Reviewer: Cheryl from Maple Valley, Washington
Wonderful product. Since I have arthritis in my hands, fumbling for cards is no longer as issue! Thanks!!
---

Reviewer: Midge from Dallesport, Washington
This is so simple and easy to use. Everyone who sees it comments on what a clever card carrier it is. Sent one to my friend out of state and she just called telling me how much she liked it. You have this item listed in the wrong area - women love it!
---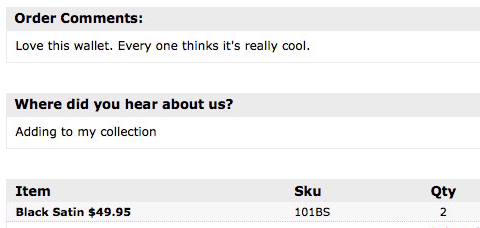 ---


Reviewer: Ellen from Lynnwood, WA
This is a fun little gizmo. It really lightened the load I was carrying in my purse because I had to pare it down to the basics - cash and cards. It's a little inconvenient not being able to carry change, but it's worth it because you have to cut out the crud and only have the basics (which is really all you need).
---

Reviewer: Mary from Richmond, VA.
This is the most wonderful thing ever made. Everywhere I go people ask about it and where did I buy it. A great invention.
---

Reviewer: Peter from ABC-Companies
Thanks for everything! The wallet is great and I will def pass it on to my friends! At dinner Friday night the waitress said it was the coolest thing she's ever seen. I think it is one of the best inventions ever!
---

Reviewer: John Q Osterhoudt
I really like the ACM! My wife gave it to me for Christmas and I use it every day. People are alwasy asking where I got it from.
Thanks
---

---


Reviewer: Judy Tatman
I really appreciated the professionalism when we talked the other day. We love both the ACM's. Even my husband who had a difficult time 'giving up his wallet.' He thought he would have a hard time conforming with it in his pocket but it did so beautifully. I even tried it out in the back pocket of my jeans (even though you advised against it) and could not tell it was there.
What a great idea!!!! Best of luck to you -- I am telling all my friends :)
---

Reviewer: jaxfolx@***********.com
I can't answer the 'customer service' part of the questionnaire because I haven't needed to contact them. I like it because it attracts a lot of attention. The comments are always the same such as "Where did you get THAT?" and "Hey, that's a cool gadget" and "That's really cool!"
---

Reviewer: barryp@***********.com
I like it very much just the way it is. I get lots of inquiries and compliments everywhere I use it.
---

Reviewer: jppennin@***********.com
Love it! I am glad that you are now paying for new customers that I send. Everywhere that I go peaple ask, "what is that and where can I get it?" I give your website everywhere I go. I guess it is time that I get compensated. :)
Please send the ID's and thanks for the offer.
---

Reviewer: Andrew J. Smith
Hi there, Your prouduct is GREAT! I've had lots of questions about it, and everyone wants to know where I got mine. I will gladly take you up on your offer to replace the button pads with the newly re-designed pads! That would be fantastic if you could do that for me. Thank you for notifying me that you recognized the problem, and then corrected it-----that is rare in business these days. Thank you very much. I look forward to getting the replacement button pads.
Sincerely,
---

Reviewer: Fernando Espinoza
Smart Idea!!
---

Reviewer: Brendan Bullock
A really intelligent product.
---

Reviewer: Quisella E Perez-Tinsley
I saw this product advertised on television and immediately knew this was an item I wanted. Plus, I knew this item would be a great gift for my Dad, Brother, Sister, and Husband. This is a truely unique item that is both useful and convienient. Also, this item can be concealed and is easier to carry than a big wallet or just putting your credit card in your pocket.
---

Reviewer: Jason Pennington
I purchased an ACM about 3 weeks ago. Love it!
---

Reviewer: Andy Smith, Pleasanton, CA
It is FANTASTIC!! Everywhere I go when I make a purchase, someone *always* asks me, "What's that???". And then when I tell them, they say, "Neat! Where do I get one?". And of course, I can never remember the phone number and I never carry anything with me that I can give them on how to get one. Those "Hey where'd you get that cards" are excellent! I'll carry those with me so that I can give it to people who are truly interested in buying one. I could have sold 25 of these by now-----easily-----just from doing my normal shopping. (Note: One guy thought it was a "phaser" from Star Trek, and another person thought it controlled the alarm system on my car! HAH!).
Thank you very much!
---

Reviewer: Dora, FT. Worth, TX
The sweet was to be the wallet, and you sent along a Werther's caramel!!!! This made me SMILE ALL DAY after opening my package. By the way, I absolutely love my new ACM wallet even thought it looks the same as the first two, which are still being used. I WAS the one in the supermarket, coffee shoppe, fast food, etc. digging in my purse for payment while everyone in line was tapping their feet. Well, after receiving the first ACM wallet, never again! That has been over about 15 years! It keeps most everything organized, and my purse is A LOT LIGHTER. I would like to ask, if you ever consider putting out tabs for like CAPITAL ONE, CITI, CHASE, etc. ?

THANKS AGAIN,

Dora Cooper